Parkray Consort 4

based on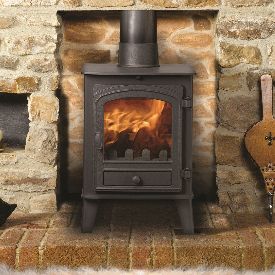 The smallest in Parkray's Consort range, rated at 3.4kW with a maximum of 5kW. The multifuel grate system allows burning wood and solid fuel. Also available as a gas stove.
Most Recent Review
The stove was fitted in mid September this year as an alternative to running the gas central heating. It was recommended to us by a local supplier and their heating installer/engineer. It is... [ read more ]

Stove expert replied: No need to buy glass cleaner as a cloth dipped in woodash or vinegar works well to remove deposits or just rolled up newspaper.
Most Popular Review
When I last reviewed this stove I was pleased with my purchase. At that time I had been using the stove for only a few weeks. I was pleased with everything except controlability. I have been... [ read more ]

Stove expert replied: It is great to get further reviews from the more experienced user, a fairer overview of a product!
More reviews for Parkray Consort 4
After a great deal of careful research I purchased this stove because of its size and appearance. It was small enough to fit in the space I had available and large enough to have a 'presence... [ read more ]

Stove expert replied: Comments above are good but I see it has low mark for control ability but no comment to support this which would be interesting.