Merlin Standard stove

based on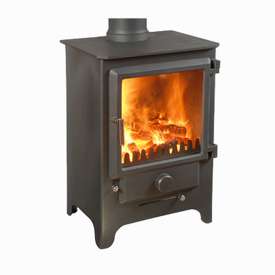 The Merlin standard stove is simple but robust and powerful, offering you a nominal heat output of 8 kW.

Technical Data
Height:

698

mm
Width:

490

mm
Depth:

385

mm
Flue Diameter: 150mm
Nominal Heat Output: 8kW
Most Recent Review
I must agree with Mr Jenkins on his review. I too have the Merlin standard and the throat plate (baffle) has again failed for the second time!! Replaced after the second year and gone again... [ read more ]

Stove expert replied: The failed parts are being replaced with modern better constructed materials that will reflect the same stove that is currently sold by Merlin so the customer is now happy with this product.
Most Popular Review
I bought this Merlin Standard as part of a deal, along with a slimline of the same make. (see my other report) I have now had a chimney installer fit it in my Italian farm house. It has taken... [ read more ]
More reviews for Merlin Standard stove
This is a good stove, the self clean is very good. The stove has been in use for 3 winters now using only well seasoned hardwood. Sadly the back throat failed in year 2 and was replaced. Even... [ read more ]

Stove expert replied: Internal components such as baffle / throat plates, side bricks and rope seals are subjected to varying degrees of heat depending on how the stove is operated and classed as consumable items. It is a shame that you have had to replace the throat plate twice, it may be that you are overdrawing it and perhaps should operate it on a sightly lower setting - a stove thermometer will help you with the ideal temperature it should be operated at.