Medium Country Franklin stove

based on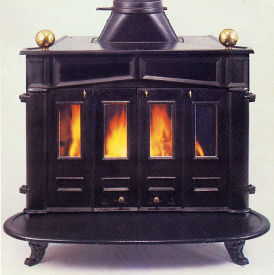 The Medium Country Franklin stove is a big stove designed to be able to run with the doors open or shut.
The Country Franklin stoves will usually have the flue pipe coming out of the top of the stove
&
is now available with glass doors only.
The Franklin stoves have a big curved tray in front of the fire box & the 2 doors fold towards the side -
so that the stove will look like a big open fire place.
There are 2 balls on top of the stove - option to remove same.
This stove is multi fuel & wil burn wood & coal.
Technical Data
Height:

790

mm
Depth:

690

mm
Flue Diameter: 200mm
Fuel: Multi fuel
Most Recent Review
The brass knobs are not just cosmetic. When the fire is on, and you are on your knees tending it, it is all to easy to reach out and burn yourself on the hot upper surface. However if you reach for the knob, burning yourself is unlikely. I have not burned myself on my Frankilin for over thirty years - although I did to begin with!... [ read more ]
Most Popular Review
This stove does not have the sophistication of an air wash system and could be regarded as fairly basic. As I understand it there is very little difference in the design from the time that Benjamin... [ read more ]
More reviews for Medium Country Franklin stove
When supplied this stove came without ANY instructions, either for fitting or use, and lacked some of the fitting nuts and bolts. This resulted in numerous telephone calls to the supplier before... [ read more ]

Great as open fire, which is what we wanted: needed to have a stove to get the draw to take smoke up and out. Had to re-drill couple of holes to get bolts through. Even using the paste to seal... [ read more ]

Stove expert replied: Yes couldn't agree more. The Franklin is a fireplace/stove hybrid and not a modern efficient well sealed stove. They can throw out some heat though - I used to have one which effectively heated a 10 x 5m room.