Large Country Franklin stove

based on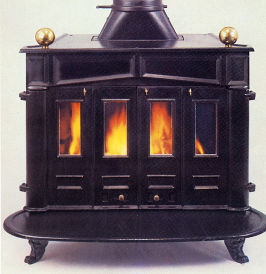 The Large Country Franklin stove has an 11kw output - the output will be highest with the doors shut.
You can also run the stove with the 2 doors open - they will fold back against the side of the stove leaving the big firebox in full view.
This traditional stove design has been reproduced by several other manufactuers too.
Most Recent Review
I've had my Franklin about ten years and still going strong, had it second hand. I will say best all rounder I know and I install Woodburners.
Most Popular Review
I loved the look of this stove and wanted one that I could burn with the doors open. I was so disappointed when the fire arrived and was installed, the fire is very tinny, there are gaps everywhere... [ read more ]

Stove expert replied: these Franklin stoves are not efficient, well sealed, modern woodburners. What they are is a cross between an open fire and a stove - you get to run them with the doors open, but at least they are that bit more efficient than an open fire. If you were to buy one expecting a 'posh' modern stove then I would not be surprised to find you disappointed.
More reviews for Large Country Franklin stove
I have a Franklin Stove for the last eight years and it is like an open fire which is the reason I bought it. The baffle behind the fire has cracked and I would like to know if anyone knows where I can buy this part of the stove.... [ read more ]

Stove expert replied: There are severel spares companies that should be able to get a replacement part fot you or go back to where you purchased the stove from.

There seem to be a number of manufactures of these things. I found mine to be a bit on the poor side. There were no seals on the doors which made control a bit of a hit and miss affair. Nice... [ read more ]