Huntington 25 stovax stove

based on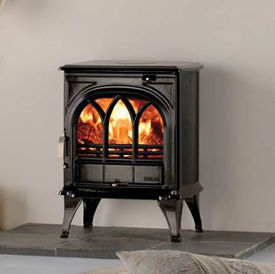 Huntington 25 stovax stove
Technical Data
Height:

590

mm
Width:

452

mm
Depth:

357

mm
Flue Diameter: 125mm
Fuel: Multifuel
Nominal Heat Output: 4.9kW
Efficiency: 78%
Most Recent Review
Just had a Huntington 25 installed and am pleased with our choice. It throws out a good heat and looks fantastic.the only slight fault so far is that the bottom of the glass gets dirty very... [ read more ]

Stove expert replied: Always use dry seasoned wood with a moisture content of less than 20%, keep the fuel back in the firebox and leave the air control open until a well established fire has been achieved. Only shut the air control a small amount at a time until a gentle slumbering flame picture is evident and do give the stove short periods of fast burn to maintain a free flue.
Most Popular Review
I have come from work at 1715 hrs ,our central heating comes on at 1615 hrs at about 1830 hrs ( I am talking about very cold nights like we had winter 2011)I would light the stove, shut the... [ read more ]

Stove expert replied: Seems very efficient producing good heat, performing well.
More reviews for Huntington 25 stovax stove