Hotpod limited stove

based on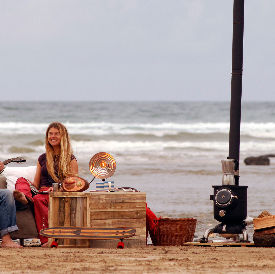 This is the Hotpod Limited edition stove. This stove is hand made by Dan Harding in Cornwall. The Hotpod Unlimited stove is made from recycled VW parts with a gas bottle for the body and is very very carefully put together by Dan in his studio. Each Hotpod Unlimited stove is a work of art, marked with its individual production number on a metal plate on the stove.
Most Recent Review
I have wanted a stove for a long time, but never owned a property which allowed me to have a wood burning stove.A long time ago I stumbled to a TV show on the BBC: "How to pay off your mortgage... [ read more ]

Stove expert replied: Great review, a long way to come for a stove when it could have been sent to you! Very innovative product.
Most Popular Review
A brilliant stove, it lights quickly, throws out A LOT of heat & looks beautiful, such a fantastic change from the boring box style stoves the market is flooded with. It's like having a functional... [ read more ]

Stove expert replied: Another great review for unique design features.