Greenheart 5 workshop stove

based on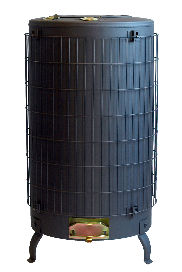 The Greenheart 5 workshop stove is a circular workshop stove designed for burning wood & sawdust. Please observe that any sawdust made from materials containing glue are not suitable for burning on a wood burning stove.
The workshop stove is fed through a circular top door - there is a handle for removing the door & operating the air vents to the stove.
Technical Data
Height:

760

mm
Width:

390

mm
Flue Diameter: 125mm
Fuel: Wood, sawdust, dry waste
Nominal Heat Output: 12kW
Most Recent Review
Delighted with this stove. I've never been warmer despite the cold winter and have not needed Economy 7 heating on at all. My workshop is 1000 sq feet.Easily found a free source of pallets which... [ read more ]

Stove expert replied: Do remember to not burn treated wood, wood with glue, mdf, etc as this can release harmful toxins.
Most Popular Review
I needed a fairly large stove to heat my workshop that I didn't need to keep feeding every 20mins. Although it was recommended that I use a 20kw stove to heat my 10000ft3 workshop the no.5 supplies... [ read more ]
More reviews for Greenheart 5 workshop stove
great little stove. have only used it once overnight filled with sawdust it burnt for 9 hours. we have it our cabin in our woods and will light it for just half an hour its that easy and gives... [ read more ]