Franco Belge Lorraine stove

based on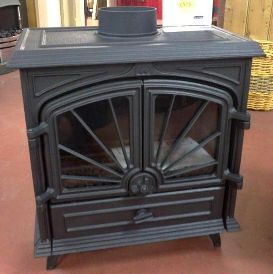 The Franco Belge Lorraine stove has a distinctive door with radiating sun rays running across the glass panel. It is fitted with either a multifuel grate or a woodburning grate.
Most Recent Review
We''ve had one of these in our sitting room for nigh on 20 years, running on well seasoned hardwood, but we hardly ever light it these days because the output is so disappointing. It''s also... [ read more ]

Stove expert replied: Have you had the flue draw checked, as it seems to go from poor to working very hard. Is the chimney lined? Having more than one flue system in a property can mean that one stove is fine and the other not so. Does the stove perform differently in different weather conditions (if so this is also indicative of a flue draw issue). It may not be the stove at fault but the installation! I would recommend getting a Hetas installer into check this for you.
Most Popular Review
I bought this stove second hand. It has been discontinued and replaced with the Camargue. Its an 11-12kw stove and belts out a massive heat when it's properly fuelled. Parts are still readily... [ read more ]

Stove expert replied: The changes to the baffle make the new models better. See later reviews.