Esse 200 stove

, page 2 of reviews based on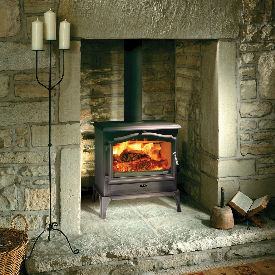 The Esse 200 stove is a 7.5kw multi fuel stove capable of buyrning wood, coal and smokeless fuel.
It has the same width & height as the Esse 100 - but has a greater depth - so also has a bigger output and fire box.
The Esse 200 stove has 1 plain door with a relatively large glass window in it. The Esse 200 and Esse 100 are tall narrow stoves which maximises the area of the glass.
Technical Data
Height:

630

mm
Width:

610

mm
Depth:

350

mm
Flue Diameter: 125mm
Fuel: Multi fuel
Page 2/2 of reviews for Esse 200 stove
Had this stove for 3 years now and really pleased with it. It is really controllable and with a couple of big logs stays in overnight which saves lighting every day. Finish is good and with... [ read more ]

This is our first stove and we have had it for 4 months now we burn mainly oak on the stove, we live in a 4 bed detached house. It heats the whole house (with the interior house doors open)... [ read more ]

I love this stove and for the money I paid I am very happy. The secondary air controller vent (whatever it is called) is a bit fiddly and when you open the door the ash can fall out but apart... [ read more ]
2