Dru 78 stove

based on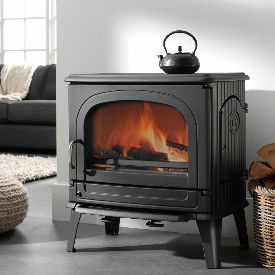 The Dru 78 is available as a wood or multi fuel model.
It has 1 plain glass door and also a side loading door.
The multi fuel option is available with a coal funnel which means you can leave the stove to load the coal for a longer time guided by a thermostat.
This cast iron stove has primary, secondary and tertiary air control.
Technical Data
Height:

790

mm
Width:

765

mm
Depth:

590

mm
Flue Diameter: 150mm
Fuel: Woodburning
Nominal Heat Output: 11kW
Efficiency: 75%
Most Recent Review
Purchased a DRU78MF which in my opinion is not fit for purpose, poorly designed and massively inefficient. More importantly I do not consider it safe to use. There are "riddling"slots at the... [ read more ]

Stove expert replied: It would appear that you are burning only wood and therefore the CB version is the correct stove for this purpose. The MF option would require an under draught to allow for the solid fuel to burn correctly and would not provide you with the best control that burning only wood requires (this being an over draught). The original stove would therefore have been operating as expected. It is good to hear that the dealer has changed the stove for you and that this CB version has resolved the issue that you had experienced when using only wood, perhaps the incorrect version of the Dru 78 stove was purchased initially.
Most Popular Review
This stove is awesome weighing in at 235kg, i've owned a few stoves over the years and this one is the daddy, up to 13kw output it will heat a huge space it is in my opinion the best value for... [ read more ]
More reviews for Dru 78 stove