Dowling Sumo stove

based on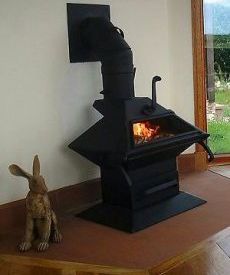 The Dowling Sumo stove is available in a lot of different options.
I have taken the measurements from the smaller 5kw output model but you can get much bigger output models -
also available with back boilers.
The appearance is sturdy and functional with plain lines..
Most Recent Review
The Sumo/thermal store combo was a leap of faith, but is proving to be a great system, and cost effective. We have a simple on/off gas boiler to top up the store when we're not burning, and... [ read more ]

Stove expert replied: Great review, sounds fantastic!
Most Popular Review
I'm the guy that wrote the first reveiw on the Sumo stove earlier thsi year. And I now read it back, I don't think I was fair. I am here again, not to look at stoves but, to of all things,... [ read more ]
More reviews for Dowling Sumo stove