Dowling Sumo stove

based on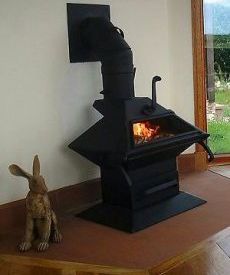 The Dowling Sumo stove is available in a lot of different options.
I have taken the measurements from the smaller 5kw output model but you can get much bigger output models -
also available with back boilers.
The appearance is sturdy and functional with plain lines..
Most Recent Review
Fitted Dowling Sumo. Concerns about open chimney around flue ignored/brushed aside. Consequent ingress of rain meant appearance deteriorated rapidly. Photos sent to Dowling ignored for comment... [ read more ]

Stove expert replied: If there is a gap around the flue then this is an installation issue and not a problem caused by the stove itself, the installer is responsible for this. Sealing around a flue not only prevents ingress of rain (which a rain cap or similar should also prevent) but prevents heat from escaping from the room. Having three glasses crack is concerning and unusual, were they put in too tightly? Dirty glass can be caused by the incorrect fuel or by the air controls not being set correctly, most air wash systems today work well with a good air flow into the firebox and dry wood.
Most Popular Review
I'm the guy that wrote the first reveiw on the Sumo stove earlier thsi year. And I now read it back, I don't think I was fair. I am here again, not to look at stoves but, to of all things,... [ read more ]
More reviews for Dowling Sumo stove (page 1 of 2)
1