Dovre 700 stove

based on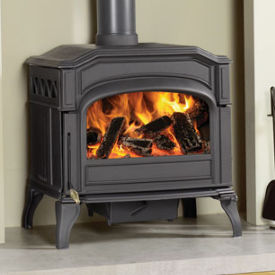 Please note that the dimensions for the Dovre 700 multi fuel stove are not the same as the wood burning model.
The wood burning version, the Dovre 700CBW stove, can be used in a smokeless area.
The Dovre 700 is a good quality cast iron stove with a single door. There is one large window in the door.
Most Recent Review
The stove is BIG - you could have a party in it - and perfect for nice big dry logs that burn well but last, but without a 'lazy' flame. The side loader is great for longer logs. The secondary... [ read more ]
Most Popular Review
I installed the wood only version about 3 years ago (mine did come with a side door, contrary to the report in the other review). I've never been cold since! Overall, the quality is excellent... [ read more ]
More reviews for Dovre 700 stove
We've had this woodburning Dovre for about 10 years now and feel we couldn't have got it more right for the large space we need to heat. The room itself is approximately 20 feet square and 10... [ read more ]

Stove expert replied: Sounds like the heart of the home.

Brilliant stove, easy to light, fool-proof design. Large firebox is wonderful. I installed one about 12 years ago that had removable side panels...this was a fabulous design as it allowed a... [ read more ]

Stove expert replied: What a great review, nothing that doesn't please!

I have recently installed and tested a Dovre 700 CB. Watch out for vermiculite firebricks inside, never a great idea. Cast iron is better in my opinion. Funny little spiral handle to the front... [ read more ]