Dovre 2000 stove

based on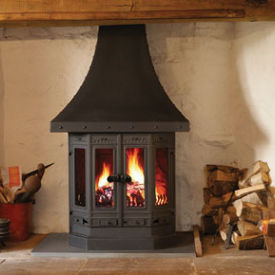 The Dovre 2000 is a multi fuel stove.
You can install this stove built in or you can have it free standing with or without optional plinth
&
using one of 3 canopy heights - small medium or large.
The body of the stove is cast iron - but the canopy on the Dovre 2000 is made of steel.
The doors are 4 folded & can be pushed back against the sides of the stove leaving a biog fireplace opening.
Technical Data
Height:

1000

mm
Width:

690

mm
Depth:

550

mm
Flue Diameter: 200mm
Fuel: Multi fuel
Efficiency: 71%
Most Recent Review
Nice large classy looking stove, does not seem very efficient with a poor comment from our local woodturning supplier. Sometimes works quite well and hot other times very poor, maybe due to... [ read more ]

Stove expert replied: If the flue draw is poor then smoke coming back into the room is often likely when opening the doors for refuelling. You will need to put a decent amount of fuel on this appliance and it should give more heat when operated with the doors closed. The wood needs to be dry and seasoned with a moisture content of less than 20%. Have you an air vent in the room? If you line the stove, when it was not designed for there to be any, this would not help with the output.
Most Popular Review
Our stove has become a much admired feature in our room. The heat is amazing especially with it being freestanding and heat coming from every surface. The glass in the doors needs to be... [ read more ]
More reviews for Dovre 2000 stove (page 1 of 2)
1