Contura 51L stove

based on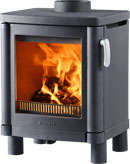 Technical Data
Height:

630

mm
Width:

495

mm
Depth:

420

mm
Nominal Heat Output: 7kW
Efficiency: 81%
Most Recent Review
We've now had the fire installed for 5 years and have been extremely impressed with its build quality and efficiency. I was concerned that the fire might not produce enough heat for our rather... [ read more ]
Most Popular Review
The Contura 51L is a good alternative to a Clearview stove and I can highly recommend it. If you are a Clearview convert but need something more modern then the Contura 51l is the stove for... [ read more ]
More reviews for Contura 51L stove
I have had this stove for 5 years now and wouldn't hesitate to recommend it to anybody looking for a wood burner. The airwash is exceptional, I have never had to give the glass anything more... [ read more ]

My final choice was between the Contura and Clearview. I finally decided on the Contura because I consider it a more contemporary stove, it also has the external air fitting as standard which... [ read more ]

Stove expert replied: Certainly a satisfied customer - great review!

Beautifully built stove entirely cast iron but very heavy at 128kg. It is a convection stove so the outside surface temperature is a lot lower than non-convector models and can therefore be... [ read more ]

Stove expert replied: Please do bear in mind that a stove should not be set on a low setting for prolonged periods as this will allow tar deposits to be produced that can lead to chimney problems, short periods of fast burn (15 - 20 mins) at least twice a day should be undertaken to maintain a clear flue plus regular chimney sweeping. If the stove is producing too much heat perhaps a smaller output model would have been a better option in your circumstances.