Clearview Pioneer 400 stove

based on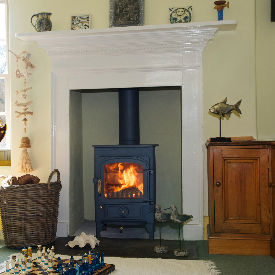 The Clearview Pioneer 400 stove is the smallest in the Clearview range of stoves.
This stove is made in UK and available in many colours.
The Clearview Pioneer has one single door.
Clearview stoves are available with or without multi fuel kit, back boilers, smoke control kits for smokeless areas, 2,4 or 6 inch legs & optional direct air supply to connect to the outside.
This makes them versatile stoves.
Technical Data
Height:

591

mm
Width:

462

mm
Depth:

383

mm
Flue Diameter: 150mm
Fuel: Multifuell
Most Recent Review
The Pioneer 400 is installed in three of our bedrooms rooms. This is hopefully an opportunity to explain to potential clients what makes the Clearview Pioneer 400 one of the best quality British... [ read more ]

Stove expert replied: Tried and tested technology is known for the Clearview brand and little has changed as the reviewer says over the last few decades. As with any stove the fuel being seasoned is paramount to how effectively and efficiently they work. Great that 3 stoves have been used.
Most Popular Review
Excellent stove, wholeheatedly recommended. So good we bought another for another room in our cottage. We know 2 friends who owned a Clearview, but weren't prepeared to pay the extra for another... [ read more ]
More reviews for Clearview Pioneer 400 stove (page 1 of 11)
1