Charnwood Island II stove

based on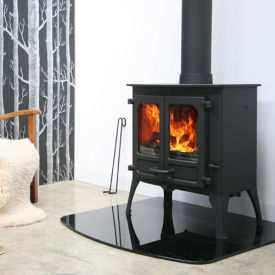 The Charnwood Island II stove has double doors with glass panels that are gently shaped matching the shaped legs. The lever on the right of the front of the stove allows the grate to be converted from a wood burning grate to a multifuel grate.
There is a button under the doors at the front of the stove that controls the airflow.
Technical Data
Height:

619

mm
Width:

604

mm
Depth:

365

mm
Flue Diameter: 150mm
Fuel: multifuel
Efficiency: 78%
Most Recent Review
excellent heat output but if you run at full heat to obtain 8kw rating the throat plate bends and the fire bricks disintigrate within one season and are very expensive to replace. too expensive... [ read more ]

Stove expert replied: No stove should be run on maximum at all times there should only be short periods of fast burn with slumber periods in between. Ideally the short periods of fast burn should be 15 - 20mins max. If you are operating the stove flat out all the time then a bigger stove may have been a better option so that the nominal / average output meets the requirements for the space you are heating rather than relying on the maximum output of the stove.
Most Popular Review
We finally decided to remove our open fire and put a stove in place. We have the stove installed now for six months and it has made such a difference. It is amazing how much more heat is generated... [ read more ]

Stove expert replied: Great review and one happy customer!
More reviews for Charnwood Island II stove (page 1 of 2)
1