Aga Minsterley stove

based on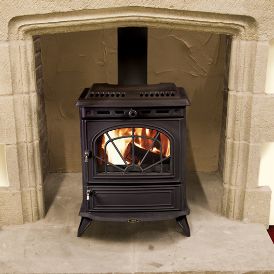 The Aga Minsterley multi fuel stove comes with a fitted back boiler to heat the central heating system.
The design is traditional, and the lattice glass door gives this multi fuel burner a period look ideal for an older style property.
The primary air is drawn from the back of the stove so you do not have the usual vent on the front of the stove.
Most Recent Review
We fitted a Stovax 8HB about two years ago, unfortunately that stove put too much heat out into the room and not enough into the heating system despite it advertising heating 8 to 9 radiators... [ read more ]

Stove expert replied: Stoves should always be calculated for the space and other heating requirements so that they match and as radiators can vary greatly in size it is important that a heating engineer undertakes the calculation of the heating system requirements so that they are achievable. 4 small single radiators will have a very different heat requirement to 4 large double panelled radiators!
Most Popular Review
This stove was installed in October last year, before the bad winter and it has been excellent, we are very very pleased with it.I have seen it listed as suitable to heat between 3 and 5 standard... [ read more ]
More reviews for Aga Minsterley stove
We had this installed 2 years ago whilst having a heating system refurb (we keot the old Rads.). The old system was an immersion heater for hot water with a huge oil boiler in a boiler house... [ read more ]

I have just refurbished an old Victorian house, I fitted an Aga Minsterley into the Rayburn ECo Connect heat exchanger with a oil fired Rayburn. I have found the stove will heat the entire central... [ read more ]

Stove expert replied: Great review.

As the primary thermostatically controlled air supply is through the ash box and grate this stove is compromised when burning logs. Additionally the secondary air supply is not as well preheated... [ read more ]

Stove expert replied: Short periods of fast burn should remove the tar providing the wood has less that 20% moisture content and you do not keep it shut down for prolonged periods.