Aga Minsterley stove

based on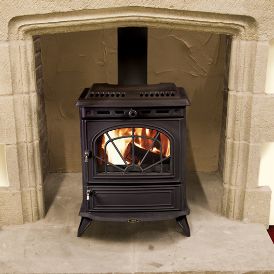 The Aga Minsterley multi fuel stove comes with a fitted back boiler to heat the central heating system.
The design is traditional, and the lattice glass door gives this multi fuel burner a period look ideal for an older style property.
The primary air is drawn from the back of the stove so you do not have the usual vent on the front of the stove.
Most Recent Review
Fitted this stove about 6-7 years ago and it has been faultless, delighted with how it performs, I have it heating a hot water tank and 8 radiators, 2 singles in bedrooms, hall single, bathroom... [ read more ]

Stove expert replied: It is important not to overfire a stove as this can cause discoloration on the glass and could lead to distortion of the stove. The air controls should not be left fully open for periods of more that 20mins at any one time, once you have an established fire. Using a metal scouring pad may possibly have damaged the surface of the glass and you should only need to use a cloth dipped in woodash or vinegar which should remove normal deposits that can occur on a glass when the stove is operated correctly and the fuel being used meets the requirements expected.
Most Popular Review
We had this installed 2 years ago whilst having a heating system refurb (we keot the old Rads.). The old system was an immersion heater for hot water with a huge oil boiler in a boiler house... [ read more ]
More reviews for Aga Minsterley stove