Aarrow Signature 5 DEFRA Stove

based on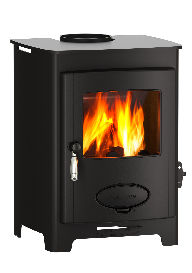 Technical Data
Height:

353

mm
Width:

405

mm
Depth:

372

mm
Flue Diameter: 125mm
Fuel: Multifuel
Nominal Heat Output: 5kW
Efficiency: 80.3%
Most Recent Review
The fire is no more than a glorified radiator. Fine during the summer months but during the winter the only way to get a heat is to run the fire with the door open and sit in front of it. Had... [ read more ]

Stove expert replied: You may have a problem with the flue draw on this installation which is preventing the heat generated from being able to radiate into the room. Internal components fail quickly if the stove is exposed to higher than normal working temperatures and as you have already had 2 throat plates in 5 years does seem a little excessive, what with cracking the glass twice as well the stove may be over fired. If the flue draw is excessive (you installer can test for this) the heat gets sucked out of the firebox and up the chimney before it can heat the metal of the stove, are you able to shut the stove right down to a slumber mode? Are you using lots of fuel for little heat? Does the glass get a smoky film over it? Problems reported about stoves are not always down to the stove and often down to the installation / flue. I would suggest getting this checked as permanent damage can be done to the stove if an over-drawing flue is found to be the cause.
Most Popular Review
We've had this stove for 2.5 years and have already required a new throat plate. The flow has been checked by our HETAS installer and is within the recommended limits. I believe the fault is... [ read more ]

Stove expert replied: A stove can over fire when the flue draw is excessive (a flue draw taken today can be different to another day), if the stove performs differently in different weather conditions then a damper or flue stabilizer will help to correct this. Subjecting a stove to higher than normal working temperatures can lead to premature failure of internal components and can also distort the main body so correction of this is very important before further damage occurs.