Aarrow Ecoburn Plus 9 multifuel stove

based on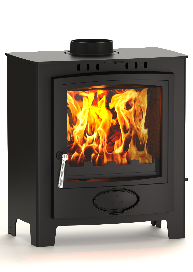 The Aaarrow Ecoburn Plus 9 is the bigger output model in this 2012 stove.
The flexi grate means you can open and close the grate position.
Technical Data
Height:

600

mm
Width:

541

mm
Depth:

365

mm
Flue Diameter: 125mm
Fuel: Multifuel
Nominal Heat Output: 8.8kW
Efficiency: 71.6%
Most Recent Review
As the previous reviewer puts it the new bars on the plus range are wholly unsuited to burning smokeless fuel in that they are unable to riddle efficiently. I first tried to rectify this by... [ read more ]

Stove expert replied: The new bars will operate effectively and remove the ash but as this customer is used to an older style product the comparison is a great change. If you know no different then the current bars work fine to remove the ash and yet provide a good base for not only wood byt smokeless fuels as required.
Most Popular Review
If you are requiring a true multifuel stove my advice is not to buy any Aarrow model with the Flexifuel grate. After running this stove for several months I gave up trying to burn soft or hard... [ read more ]
More reviews for Aarrow Ecoburn Plus 9 multifuel stove
Had this fire since the summer and it heats my the whole house even on the coldest days I have used logs and coal and I have no issues at all it lights easily and the lounge is warm in the morning... [ read more ]

Stove expert replied: Great review