Aarrow Ecoburn 5 stove

based on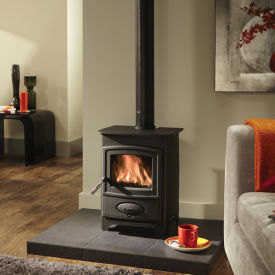 The Aarrow Ecoburn 5 stove is the smallest in the Ecoburn range of Aarrow stoves.
There is one door on this model which has a glass panel in it with a gentle curve to the top.
There is a primary and secondary air supply. The primary air can either be supplied below the grate when coal burning or above the firegrate for wood burning.
This stove has an optional stand & you can also get a high or low canopy for it.
Technical Data
Height:

525

mm
Width:

393

mm
Depth:

372

mm
Flue Diameter: 125mm
Fuel: Multifuel
Nominal Heat Output: 5kW
Efficiency: 74.7%
Most Recent Review
I have owned the Ecoburn plus 5 widescreen for 6 months now I am very impressed by it. It's a lovely design and kicks out a lot of heat. I have two minor issues with the burner, the handle of... [ read more ]

Stove expert replied: Nice comments overall. As with most stoves a glove is recommended to be used for operating the door handle or sometimes the operating tool supplied is preferred, I personally find this more fiddly and a glove is generally much simpler which is why they are supplied with most stoves. Regarding the ash pan width, due to the pan opening and overall body construction, they do tend to be smaller in size than the fire bed width and yes it is annoying to leave ash behind, I have found a stove hoover ideal for this job. If the full width is not used in the stove for the grate system, then you get a dead space at the sides and ash collects there so compromises are made in the overall design to get the most effective use of both the firebox and ash collection system.
Most Popular Review
Fantastic little stove that will warm your toes on a winter evening. The stove simply works for a large living room and is extremely easy to use.Changing the grate from wood to coal is a simple... [ read more ]
More reviews for Aarrow Ecoburn 5 stove (page 1 of 2)
1