Aarrow Acorn 5 View stove

based on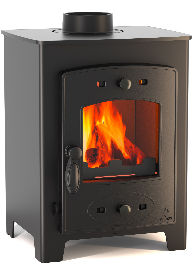 The Aarrow Acorn 5 model has been updated to the Aarrow Acorn 5 View model.
Most Recent Review
We had this stove installed in September and have used it almost every evening since, and sometimes through the day. Provided wood is well seasoned it roars away: our flue temperature is 150... [ read more ]

Stove expert replied: Ideally you should not keep both vents fully open for periods of more than 20 mins at any one time as this can caused over-firing of the stove. The bottom vent should then be shut down to provide a gentle burn rate, opening again when a max burn is required but again only for 20mins at any time. Empty the ash pan at least daily so that the ash can't build up and touch the underneath of the grate, if this is allowed the grate will have a shortened life time.
Most Popular Review
Very pleased with this stove. We have had it for a year now and it heats our relatively small lounge (standard Victorian house) incredibly well. Easy to light and once lit and up to temperature... [ read more ]