Morso Dove stove

based on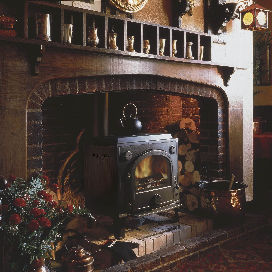 The Morso Dove multi fuel stove is a big output cast iron stove.
The front has one door with glass in it - there is a slight curve on the top edge of the window.
The Dove is available with an optional boiler of 34.000btu and can come with ribbed or have dove motif sides.
Technical Data
Height:

690mm

Width:

664mm

Depth:

520mm

Flue Diameter: 150mm
Fuel: Multi fuel
Nominal Heat Output: 10.5kW
Efficiency: 74%
Most Recent Review
We bought a house and it came with a Morso¸ Dove 1630. Being new to multi-fuel stoves it took some practice. Now, it lights first time, with no fire-lighters nor kindling, just scrunched up... [ read more ]
Most Popular Review
I did a lot of research into buying this stove. I had a squirrel before but extended the house and needed the heating and hot water to work off the stove. After consulting a specialist and many... [ read more ]
More reviews for Morso Dove stove