Charnwood C 6 stove

based on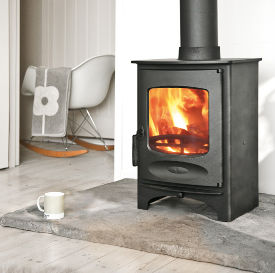 The Charnwood C series stoves have a contemporary simple design -
available with an optional log box making the stove taller -
You can have this stove as a pure wood burner or a multi fuel stove with an ashpan and grate.
Most Recent Review
I'm amazed at reading the other reviews, I agree that the stove burns through logs very quickly which is not great but worse still it just doesn't heat our 6m x 4m room at all, you can sit directly... [ read more ]

Stove expert replied: Do have a flue draw test taken as it is likely to be the cause of the problem if the stove is eating fuel without producing much heat and with little control, the flue draw is critical to know. If it exceeds the manufacturers guidance then a damper or stabilizer can be added to gain better control. This is not the fault then of the stove but down to the installation.
Most Popular Review
Lovely little stove, very easy to light with simple controls. Need a full time stoker to keep feeding the logs in, and that is hardwood ! Air control makes difference from open to the 'click', but no change when closed right down, hence have used all my logs in 2 days. Airflow making a rather alarming humming / roaring noise, so I suspect a lot of heat disappearing up the chimney.... [ read more ]

Stove expert replied: Perhaps you should get a damper on the flue so that you can control the rate of burn. Speak to your installer as if the stove is working hard all the time you may be over-firing it and this can lead to damage to the unit.
More reviews for Charnwood C 6 stove
As some people have mentioned these stoves do go through the fuel fairly quick, I refuel it every 45mins to a little over and hour. But that doesn't seem to be different to other stoves my friends... [ read more ]

I had this stove installed in August 2014. The stove lights well, but over draws. I've tried well seasoned wood, house coal, smokeless pellets and anthracite lumps. This stove burns through... [ read more ]

I have an installer coming to look at his stove as the back plate is buckled, this was brought to my attention by chimney sweep, when he tried to remove the throat plate. It is only 3 years... [ read more ]

Stove expert replied: Metal internal components may fail from overfiring of the stove which should be checked out in more depth to insure future failures are prevented. Consumable items will require replacement from time to time depending on their usage.