Charnwood c4 stove

based on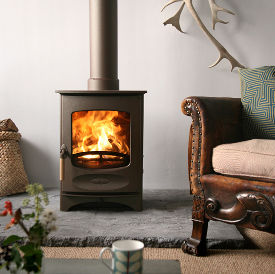 This Charnwood stove is available in wood or multi fuel -
with or without a store stand.
You can use a rear flue connection kit in order to take flue out of the back of the stove but still be able to sweep through stove.
Most Recent Review
The stove is everything people say it is, but I've had major problems with the door. The top hinge nail pin dislodged and the door fell down while fire was burning, I managed to replace it.... [ read more ]

Stove expert replied: The hinge pin may just need a tap on the bottom edge to splay it and therefore make it a tighter fit. As far as the glass working loose, if the gasket failed this may be down to an over-drawing flue and some extra control may be required (normally a damper or stabilizer). As I do not know how long the stove has been in it is difficult to be certain, other indicators are that the stove is using a lot of fuel and not producing the expected heat output, when the air controls are shut the stove is still working hard. This should be investigated further to prevent long term damage to the stove.
Most Popular Review
I have a 2 bedroomed flat on the first floor. So all you flat dwellers can do this too. Although from the first floor, bear in mind dragging fuel up the stairs can be a pain. But I have to say... [ read more ]
More reviews for Charnwood c4 stove