Wamsler 900 series cooking range

based on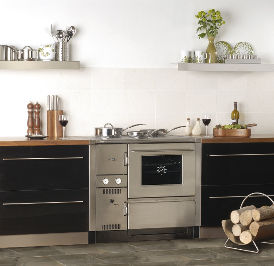 The Wamsler 900 range cooker - used to be called the 148 model.
It is a cooking range with a big back boiler - so acts as a room heater & a cooker & runs heats the radiators & hot water too.
You can regulate the boiler size by moving the fire box up and down - if placed high up it will heat 10.000btu only & if placed as low as possible it will provide the full 54.000btu to the water.
You can also regulate the heat to go around the oven or not.
The flue pipe can come out of the top, back or side of the stove
&
the stove can have the oven on the right or the left side.
Wamsler is a German make.
Technical Data
Height:

850mm

Width:

905mm

Depth:

600mm

Flue Diameter: 150mm
Fuel: Multi fuel
Most Recent Review
I've been running a Wamsler 900 I got 2nd hand for 16 years and it has been great. Does heating, hot water and cooking all from wood. The whole of the top plate can be used for cooking and... [ read more ]

Stove expert replied: Good review for the Wamsler range cooker.
Most Popular Review
Excellent cooker, would deffinatly buy another one. have had Rayburns in the past but there is no comparison, this is the more efficient stove.
More reviews for Wamsler 900 series cooking range
An excellent cooker, it has given me and my family so much for a good many year's,With 14 radiators working off it I would without any hesitation buy another one. I give it 10 out of 10 every... [ read more ]

Stove expert replied: Wonderful review - a very satisfied customer and family!

Took a bit of getting used to but it does exactly what it says on the tin! We run 12 good sized radiators, hot water and cooking off it using wood. Build quality on lids could be better and... [ read more ]

Excellent apart from quality of finish - we asked for a replacement damaged outer piece over 12 months ago - still waiting.