Tiger stove

based on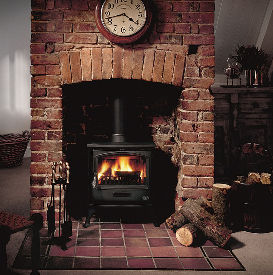 The Tiger is a 5kW cast iron multifuel stove suited to the smaller living room.
Technical Data
Height:

595mm

Width:

545mm

Depth:

335mm

Flue Diameter: 150mm
Fuel: Multifuel
Efficiency: 77%
Most Recent Review
I have had my Tiger burner (looks exactly like the standard model, cant find a model number on it)f or about 8 years. Can I burn coal on it? I think I remember the sales guy''s where I bought... [ read more ]

Stove expert replied: If you have a grate in the stove then smokeless fuels should be able to be used on the appliance, household coal is not recommended as it burns with a long flame and is a dirty fuel which affects the airwash system.
Most Popular Review
bought stove last year and its been a nightmare im loading fire like casey jones (steam train) the fire is uncontrolable ,i had fitted a flue liner before fitting as told it would be better ?... [ read more ]
More reviews for Tiger stove (page 1 of 5)
1