Tiger stove

based on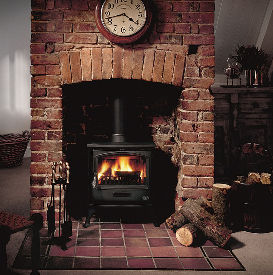 The Tiger is a 5kW cast iron multifuel stove suited to the smaller living room.
Technical Data
Height:

595mm

Width:

545mm

Depth:

335mm

Flue Diameter: 150mm
Fuel: Multifuel
Efficiency: 77%
Most Recent Review
I have 2 Tiger multi fuel burners, both have no control and whistle through the wood and coal resulting in white hot heat, and burning out after a few hours. Both are only 2 years old. I can... [ read more ]

Stove expert replied: Are they the Defra Approved models or standard model where the air control can shut fully. If you are not able to shut a stove down then you should get a flue draw test taken to ensure that it meets the manufacturers desired draw, if it is too high then the stove will burn hard not producing much heat for the amount of fuel being used. This is not the fault of the stove but an installation issue.
Most Popular Review
bought stove last year and its been a nightmare im loading fire like casey jones (steam train) the fire is uncontrolable ,i had fitted a flue liner before fitting as told it would be better ?... [ read more ]
More reviews for Tiger stove (page 1 of 5)
1