Stovax Stockton 5 stove

based on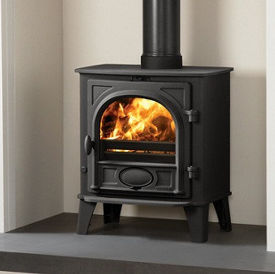 The Stovax Stockton 5 stove is available as a wood or multi fuel version.
This stove does not need an air vent into the room as the output is not above 5kw.
The flue can exit from the top or the back of the stove.
The Stockton range is also available in coloured finishes - but the colours are not bright -
more a hint of colour.
Technical Data
Height:

544mm

Width:

481mm

Depth:

335mm

Flue Diameter: 125mm
Fuel: Woodburning
Nominal Heat Output: 5kW
Efficiency: 85%
Most Recent Review
Had our stovax Stockton 5 fitted straight after Christmas and had a problem getting heat out of it so the salesperson came round with some wood of their own as they said ours must be too damp... [ read more ]

Stove expert replied: If the stove is producing the heat that the manual states then this heat has to be going somewhere! What size is the room that the stove is in? Is this the correct output stove for the space you are wishing to heat? What clearance have you round the stove? Is the flue lined? Does the stove respond when you shut the air controls down? There will be a reason for the lack of heat you are expecting so further investigation of the installation and stove size is recommended, this may not be the fault of the stove!
Most Popular Review
Updated my 18 yr old Morso squirrel for this stove wanted to see dancing flames through clear glass this stove was very efficient at consuming my winters supply of 3 yr seasoned hardwood in... [ read more ]
More reviews for Stovax Stockton 5 stove (page 1 of 6)
1