Stovax Stockton 5 stove

based on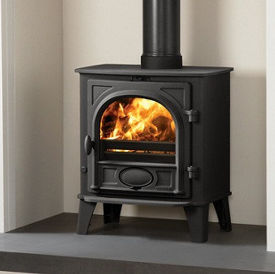 The Stovax Stockton 5 stove is available as a wood or multi fuel version.
This stove does not need an air vent into the room as the output is not above 5kw.
The flue can exit from the top or the back of the stove.
The Stockton range is also available in coloured finishes - but the colours are not bright -
more a hint of colour.
Technical Data
Height:

544mm

Width:

481mm

Depth:

335mm

Flue Diameter: 125mm
Fuel: Woodburning
Nominal Heat Output: 5kW
Efficiency: 85%
Most Recent Review
Hi. Can anyone advise how to slow down the burn on my Stovax. I push in the lever underneath the stove. Close the airwash but it still burns too quickly. Is it too ambitious of me to want... [ read more ]

Stove expert replied: Is the stove a smoke exempt model? If not and all vents are closed and still the stove works hard then please check all seals round the door and glass. (Shut a piece of A4 paper between the body of the stove and to door (when cold) if the paper can be pulled out then the rope seal needs replacing or the door needs adjustment to closed more tightly. The flue draw might be excessive and control of this can be achieved by adding a flue damper or stabilizer to the flue system, you should discuss this with your installer who should be able to undertake a flue draw test to ascertain if this is the cause of lack of control. If the stove has had the defra kit added then this will prevent the top air control from shutting fully and it is unlikely that an overnight burn will be achieved. The bleed of air allows the flue gases to be diluted so that this complies with the current smoke exempt requirements.
Most Popular Review
Updated my 18 yr old Morso squirrel for this stove wanted to see dancing flames through clear glass this stove was very efficient at consuming my winters supply of 3 yr seasoned hardwood in... [ read more ]
More reviews for Stovax Stockton 5 stove (page 1 of 5)
1