Little Wenlock stove

based on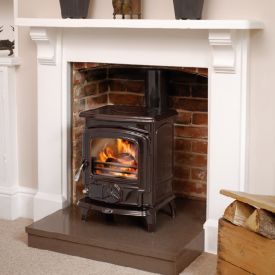 The Aga (Coalbrookdale) Little Wenlock is a classic cast iron stove suited to the smaller room. The Little Wenlock has airwash to keep the glass clear and an impressive 79% efficiency rating.
The woodburning version is approved for burning wood in smoke control areas.
Technical Data
Height:

535mm

Width:

390mm

Depth:

415mm

Flue Diameter: 125mm
Fuel: Multifuel
Nominal Heat Output: 5.7kW
Efficiency: 79.4%
Most Recent Review
Great little stove for heat output. Used daily, for seven years, in the colder months and definitely raises the overall warmth of our home. Like the stove a lot but it has its problems. We... [ read more ]

Stove expert replied: If there is enough space behind the stove you may not need to have the stove taken out, some blanking plates fit by twisting into place once it has been slotted into the hole. As you have two stoves, the flue draw may be poorer on this flue and therefore more airflow into the stove may be required to maintain clear glass or even more free air in the room itself. You could also tey an alternative fuel as they do vary and another may not have the same effect on the glass.
Most Popular Review
This is an excellent & highly economical solid fuel and wood burning stove.Easily adapts to larger firebox size for burning wood, or using supplied firebricks for solid fuel.The stove is... [ read more ]

Stove expert replied: Great feedback for such a small stove, good to hear it is so versatile
More reviews for Little Wenlock stove (page 1 of 6)
1