Little Wenlock stove

based on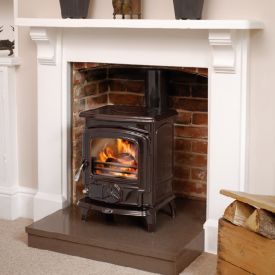 The Aga (Coalbrookdale) Little Wenlock is a classic cast iron stove suited to the smaller room. The Little Wenlock has airwash to keep the glass clear and an impressive 79% efficiency rating.
The woodburning version is approved for burning wood in smoke control areas.
Technical Data
Height:

535mm

Width:

390mm

Depth:

415mm

Flue Diameter: 125mm
Fuel: Multifuel
Nominal Heat Output: 5.7kW
Efficiency: 79.4%
Most Recent Review
Lovely looking classic stove, door handle doesn't get hot. Ash pan has a good depth but could be wider - some ash inevitably falls past it into the bottom of the stove. I use an ASH-VAC which... [ read more ]

Stove expert replied: Ash pans rarely fill the whole width of the stove due to opening that it passes through being narrower than the main stove body, this has to be smaller to give the stove strength. Plus points for this type of design means a larger fire grate for fuel and ash spilling outside the ashpan can be annoying but is easily cleaned with an ashvac. Ashpans usually have 3 high sides so it can be used as a shovel to collect any spilt ash on the back part but can mean that ash falls off the back when removing - there is no easy solution I feel!
Most Popular Review
This is an excellent & highly economical solid fuel and wood burning stove.Easily adapts to larger firebox size for burning wood, or using supplied firebricks for solid fuel.The stove is... [ read more ]

Stove expert replied: Great feedback for such a small stove, good to hear it is so versatile
More reviews for Little Wenlock stove (page 1 of 6)
1