Little Wenlock stove

based on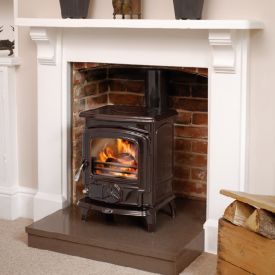 The Aga (Coalbrookdale) Little Wenlock is a classic cast iron stove suited to the smaller room. The Little Wenlock has airwash to keep the glass clear and an impressive 79% efficiency rating.
The woodburning version is approved for burning wood in smoke control areas.
Technical Data
Height:

535mm

Width:

390mm

Depth:

415mm

Flue Diameter: 125mm
Fuel: Multifuel
Nominal Heat Output: 5.7kW
Efficiency: 79.4%
Most Recent Review
Downside is...if your flue is top mounted, the baffle plate will need to be removed to sweep (unless you have an access door in the stove pipe). To get this out, it will more than likely require... [ read more ]

Stove expert replied: If a stove flue pipe with access door in it is required, fitting this instead of breaking the baffle plate for each sweeping would seem a good way to resolve the issue. The baffle plate should be removed regularly to check any build up in the flue and I would suggest monthly which may prevent it being a problem when sweeping time comes around which is less frequently. Routine maintenance is suggested for all stoves and is often not undertaken except once a year when sweeping takes place, removable parts should be removed so the stove can be cleaned out thoroughly monthly.
Most Popular Review
This is an excellent & highly economical solid fuel and wood burning stove.Easily adapts to larger firebox size for burning wood, or using supplied firebricks for solid fuel.The stove is... [ read more ]

Stove expert replied: Great feedback for such a small stove, good to hear it is so versatile
More reviews for Little Wenlock stove (page 1 of 6)
1