Aga Much Wenlock stove

based on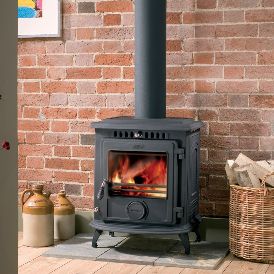 The Aga Much Wenlock is a 6kW stove suited to the medium sized room. This is a cleanburning stove with airwash.
Technical Data
Height:

700mm

Width:

550mm

Depth:

480mm

Flue Diameter: 150mm
Fuel: Multifuel
Efficiency: 77.3%
Most Recent Review
Picking a stove was one of the longest decisions I have ever made, trawling back and forth comparing stove size and firebox size. This one, we felt best suited our fireplace and requirements... [ read more ]

Stove expert replied: Please note that self installations can be undertaken but should then be signed off by the local Building Control Office or a Hetas Engineer to ensure conformity of the current regulations. People are quick to write negative reviews but less keen on positive ones so it is good to hear that you proceeded with this purchase even though negative remarks had been made.
Most Popular Review
So very disappointed with this stove and the total lack of knowledge or even care with their customer service.It does look nice, this sucked me in. I cannot get any control over the burning... [ read more ]

Stove expert replied: Sounds as if there may be a problem with the installation if stove uncontrollable. First thing to check is that the door seals are working (try shutting a piece of paper between the door and the body of the stove, if it can be pulled out then the door needs adjustment or the rope needs replacing. It may be an over-drawing flue system which your installer should be able to help with. Worth investigating sooner to ensure no damage to the stove occurs.
More reviews for Aga Much Wenlock stove