Jotul F 100

based on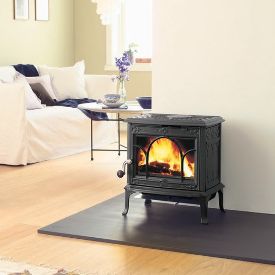 The Jotul F100 is a 5.5kw output stove. The look of this Jotul stove is easy to recognise - it has a plain door or some delicate lattice work on the door.
You can have the stove in enamel finish.
There is an optional multi fuel kit available.
Most Recent Review
I have been in love with Jotul stoves since the end of the 70s, we had a 118 and a 121which we still have, as well as the N1 and they are perfect. I Bought the F100 and have had to move it around... [ read more ]

Stove expert replied: What a shame that the latest Jotul has not lived up to the previous models. Having had a few to compare it with and years of experience the F100 seems to fail to perform as expected even when moving to a longer flue. The flue draw will be imperative to get right especially with other working flues in the property.
Most Popular Review
I have marked it down a little because I think Jotul (and others) are a little pricey and the firebox size doesn't allow it to be loaded up for all night burning. I stopped trying in fact as... [ read more ]
More reviews for Jotul F 100 (page 1 of 3)
1