Jotul F 500 stove

based on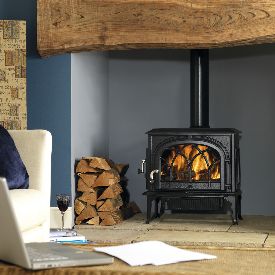 The Jotul F 500 stove is available in matt black & coloured enamel finishes.
The front glass is big & curved on the top
&
is covered with delicate lattice work.
It is a wide model - and the F500 will therefore take logs 550mm long.
There is an optional external air supply for this model.
Most Recent Review
We have had this stove for almost five years now in our roomy French farmhouse. It runs all the time during the colder months and is our main form of heating, the back up electric radiators... [ read more ]

Stove expert replied: It is good practise to haev an alternative access for sweeping in a flue system rather than relying on sweeping through a stove, this may overcome the issue of residues at the base of the flue.
Most Popular Review
This has served us well for over 6 years (since we moved in) initial tar problems have been cured by burning with a greater air setting. The Jotul is a very robust stove and withstands any slight... [ read more ]

Stove expert replied: As this reviewer found out slow burning is not the most efficient way to run your stove and can lead to tar formation in the stove and chimney.
More reviews for Jotul F 500 stove