Hunter Herald 8 stove

based on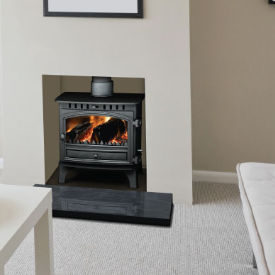 The Hunter Herald 8 stove is available with a high canopy, low canopy or with a flat top.
The Herald 8 comes as a wood burning model or as a multi fuel and can be fitted with a backboiler.
There is a double sided version of the Herald 8 available as well.
Technical Data
Height:

624mm

Width:

635mm

Depth:

434mm

Flue Diameter: 150mm
Fuel: Multi fuel
Efficiency: 78.9%
Most Recent Review
bought this stove by mistake had a yeoman years ago and the graphics and lettering are very similar wish I hadn't. 1.blowback of smoke when opening doors. 2. rear flu position is next to useless had to change to top. 3. poor quality glass heat cracking after a month. 4. impossible to remove baffle plate like the crypton factor to get it back in. 5. customer service terrible. 6. rude staff on phone. 7. top air was misaligned when shut down leaked on left side... [ read more ]

Stove expert replied: 1. Perhaps you need an anti down draught cowl on the flue or more air in the room to solve this problem as it is not the stove at fault but the flue system / installation. This should be investigated further. 2. A rear flue option should not cause any problem if the flue draw is adequate and you have not exceeded the max length of 150mm, it may not suit your situation but having the option gives more flexibility. 3. Glass can crack at any time and as it had been in tact for a month would not imply a faulty product. 4. Internal components do usually require a knack to remove and re-install, if it is undertaken on a monthly basis (as suggested) you should become more familiar with finding the easiest wasy to undertake this proceedure. 5 and 6. Unsure if you had poor customer service from the company you purchased the stove from or from the Manufacturer. 6. If the air wash is misaligned then this should be covered under warranty and should be taken up with the supplier.
Most Popular Review
We bought our Hunter multifuel stove 5 months ago and we wouldn't buy another. We were told it would heat our entire downstairs, 2 large reception rooms, a large hall and kitchen. Whilst our... [ read more ]

Stove expert replied: A room heater is what it says and if there is only a door way between spaces then the radiant heat to this space may not be that great. It will obviously raise the temperature but may not be man enough for full heating. Open plan spaces are much easier to heat from one appliance.
More reviews for Hunter Herald 8 stove (page 1 of 2)
1