Hunter Herald 8 stove

based on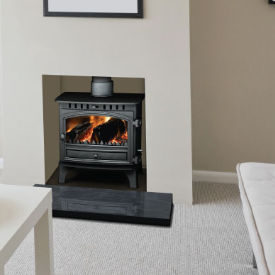 The Hunter Herald 8 stove is available with a high canopy, low canopy or with a flat top.
The Herald 8 comes as a wood burning model or as a multi fuel and can be fitted with a backboiler.
There is a double sided version of the Herald 8 available as well.
Technical Data
Height:

624mm

Width:

635mm

Depth:

434mm

Flue Diameter: 150mm
Fuel: Multi fuel
Efficiency: 78.9%
Most Recent Review
I had the Hunter Herald 8CE installed 3 months ago by a Hetas engineer along with a new lining and an anti-downdraught chimney cowl. I've found that the updraught is far too strong and even... [ read more ]

Stove expert replied: The air controls should make a difference when operated and if not the top one can sometimes not be in the correct position. the deflector on the underside of the Top Air is removed and check that the slider is sitting over the top air plate with the gasket in place properly? The slider may not be aligning up with the holes properly causing a leakage of air even when the plates are supposed to be closed? Worth checking this perhaps.
Most Popular Review
We bought our Hunter multifuel stove 5 months ago and we wouldn't buy another. We were told it would heat our entire downstairs, 2 large reception rooms, a large hall and kitchen. Whilst our... [ read more ]

Stove expert replied: A room heater is what it says and if there is only a door way between spaces then the radiant heat to this space may not be that great. It will obviously raise the temperature but may not be man enough for full heating. Open plan spaces are much easier to heat from one appliance.
More reviews for Hunter Herald 8 stove (page 1 of 3)
1