Hunter Herald 8 stove

based on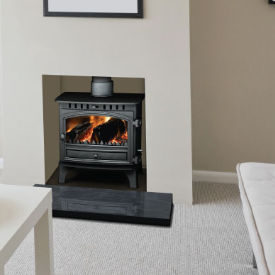 The Hunter Herald 8 stove is available with a high canopy, low canopy or with a flat top.
The Herald 8 comes as a wood burning model or as a multi fuel and can be fitted with a backboiler.
There is a double sided version of the Herald 8 available as well.
Technical Data
Height:

624mm

Width:

635mm

Depth:

434mm

Flue Diameter: 150mm
Fuel: Multi fuel
Efficiency: 78.9%
Most Recent Review
We bought the double sided stove for an old cottage we are renovating, thinking it would work great between the sitting and dining rooms. This is a very small area, but this stove just does... [ read more ]

Stove expert replied: This stove should be able to produce a good heat output. Is the flue lined? What size flue is being used and what is the height? Is there a reasonable gap round the stove sides (150mm either side)and top (300mm)? If the stove is in a tight place then the heat will be absorbed by the surrounding material and not radiate freely into the room space. What fuel are you burning? Try smokeless fuel if the stove is a multifuel or if a woodburner only then timber with a moisture content of less than 20%. Is there an air brick in the room? I would recommend getting the installation checked as there may be something that has been missed preventing this stove from producing the heat it should,.
Most Popular Review
We have been living with one of these since Nov 2003. It only stays in with coal, and then only sometimes. It runs two double rads only. We have had some very cold nights with this stove. The... [ read more ]

Stove expert replied: This sounds like a MK1 Pre CE Hunter and they have since updated their baffle plate design.
More reviews for Hunter Herald 8 stove (page 1 of 3)
1