Hunter Herald 8 stove

based on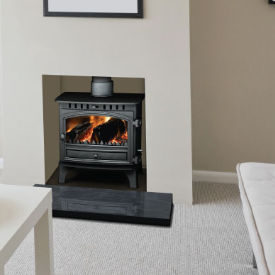 The Hunter Herald 8 stove is available with a high canopy, low canopy or with a flat top.
The Herald 8 comes as a wood burning model or as a multi fuel and can be fitted with a backboiler.
There is a double sided version of the Herald 8 available as well.
Technical Data
Height:

624mm

Width:

635mm

Depth:

434mm

Flue Diameter: 150mm
Fuel: Multi fuel
Efficiency: 78.9%
Most Recent Review
We were told it would heat radiators, hot water and the lounge where it's fitted, it struggles to heat the lounge never mind hot water or radiators. The engineer who installed has been back so many times it's unreal. We burn good wood, Oak. We cannot open the doors without choking to death, the smoke billows out, before anyone tries to tell me why, we've tried it all. The chimney is so high I need a light on the top for aircraft. It needs to be blazing to get any heat out of it at all but you are putting logs on the size of shoe boxes every 5 minutes. Go for a fire like Villager with a boiler at the top. This stove is going in the skip.... [ read more ]

Stove expert replied: Was the stove sized correctly for the system that you are wishing to run? If the stove is too small then it will struggle to heat a large system. These stoves are tested so that the outputs stated are achievable providing it is installed and used as per the manufacturers instructions. It seems contradictory the have smoke coming back into the room when you open the door (down draught indicating a poor draw on the flue) and then to say that you are feeding the stove with fuel every 5 minutes (more likely to indicate an over drawing flue making the stove work very hard but not producing much heat). Have you an airbrick in the room? It does seem that the installation needs to be checked fully to ensure that all aspects are correct as indicated in the manufacturers installation manual.
Most Popular Review
We bought our Hunter multifuel stove 5 months ago and we wouldn't buy another. We were told it would heat our entire downstairs, 2 large reception rooms, a large hall and kitchen. Whilst our... [ read more ]

Stove expert replied: A room heater is what it says and if there is only a door way between spaces then the radiant heat to this space may not be that great. It will obviously raise the temperature but may not be man enough for full heating. Open plan spaces are much easier to heat from one appliance.
More reviews for Hunter Herald 8 stove (page 1 of 3)
1