Hunter Herald 8 stove

based on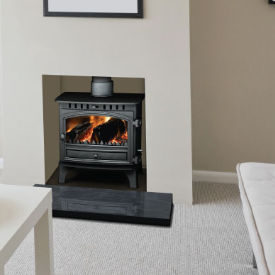 The Hunter Herald 8 stove is available with a high canopy, low canopy or with a flat top.
The Herald 8 comes as a wood burning model or as a multi fuel and can be fitted with a backboiler.
There is a double sided version of the Herald 8 available as well.
Technical Data
Height:

624mm

Width:

635mm

Depth:

434mm

Flue Diameter: 150mm
Fuel: Multi fuel
Efficiency: 78.9%
Most Recent Review
I have had to replace the grate on my stove twice now, the last one warped and the rung broke through after just 2 seasons use. Hunter said that I must be burning the wood at too high a temperature... [ read more ]

Stove expert replied: When you close the vents down do the flames die down or stay busy? If they stay busy please check the door seals of the stove and the flue draw to insure that the draw is not excessive. If it is greater than recommended by the manufacturer the stove will be exposed to higher than normal working temperatures and internal parts will fail prematurely. As you have a grate this is a multifuel stove and the ash will be harder to build up which is what you need for efficient woodburning. This may not be a failure with the stove but an installation problem that needs further investigation.
Most Popular Review
We bought our Hunter multifuel stove 5 months ago and we wouldn't buy another. We were told it would heat our entire downstairs, 2 large reception rooms, a large hall and kitchen. Whilst our... [ read more ]

Stove expert replied: A room heater is what it says and if there is only a door way between spaces then the radiant heat to this space may not be that great. It will obviously raise the temperature but may not be man enough for full heating. Open plan spaces are much easier to heat from one appliance.
More reviews for Hunter Herald 8 stove (page 1 of 4)
1