Hunter Herald 14 stove

based on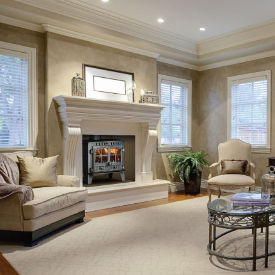 The Herald 14 is the lagest of the Hunter Herald stoves. A steel stove that is available with one or two doors. You have the option of having crosses in the doors or having plain doors. The height given is for the flat top version, there are low and high canopy versions of this stove available.
Technical Data
Height:

644mm

Width:

730mm

Depth:

508mm

Flue Diameter: 150mm
Fuel: Multi fuel
Efficiency: 78.6%
Most Recent Review
Used the Herald multifuel for 10 years. Straight 2 door fire using homefire fuel. From year one we had to change at least 4 riddle bars EVERY YEAR.....plus the baffle plate once. But a stove with terrific for heat output. Would I have another Herald stove.....error...NO.... will look for a different make next time.... [ read more ]

Stove expert replied: It sounds as if the stove is possibly being over fired, but more than likely over riddled or leaving too much hot ash in the ash pan, grate bars normally last well but it seems strange that only 4 are required to be changed annually. If the four in question are in the middle, try to not over riddle the stove and leave a small bed of ash to protect the top of the bars, do then empty the ashpan straight away and not leave the ash to build up. Air needs to be able to pass freely underneath the bars to keep them cool. You can also move the grate bars around so you get a more even ware through the whole set which may help to elongate their life.
Most Popular Review
I have had this stove for a couple of years now and it does what it says on the packet. I can get lots of fuel into it, keep it in overnight, and it heats the whole house as I have a backboiler... [ read more ]
More reviews for Hunter Herald 14 stove (page 1 of 5)
1