Hunter Herald 14 stove

based on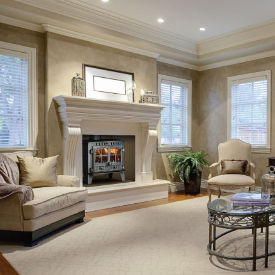 The Herald 14 is the lagest of the Hunter Herald stoves. A steel stove that is available with one or two doors. You have the option of having crosses in the doors or having plain doors. The height given is for the flat top version, there are low and high canopy versions of this stove available.
Technical Data
Height:

644mm

Width:

730mm

Depth:

508mm

Flue Diameter: 150mm
Fuel: Multi fuel
Efficiency: 78.6%
Most Recent Review
After spending a few miserable winters with another stove that was smaller and of inferior build I have been truly delighted with this stove. Being large the stove easily warms the living space... [ read more ]

Stove expert replied: Do not leave the stove shut down for prolonged periods they need to have short periods of fast burn to maintain a clear flue system. When shut down for prolonged periods deposit can form on the glass and can lead to permanent damage as the flue gases are not being removed effectively.
Most Popular Review
I have had this stove for a couple of years now and it does what it says on the packet. I can get lots of fuel into it, keep it in overnight, and it heats the whole house as I have a backboiler... [ read more ]
More reviews for Hunter Herald 14 stove (page 1 of 5)
1