Franco Belge Belfort stove

based on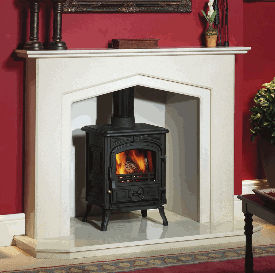 The Franco Belge Belfort stove is a compact model and will therefore be able to fit into smaller fire place settings.
It has a 5kw output & you do not need to put an air vent into the room as less than 5kw output.
You can get the Belfort stove in enamel finish as well.
There is 1 plain door with a glass panel on the stove and the flue pipe can come out of the top or back of the stove.
Technical Data
Height:

550mm

Width:

420mm

Depth:

340mm

Flue Diameter: 125mm
Fuel: Multi fuel
Nominal Heat Output: 4.5kW
Efficiency: 74.3%
Most Recent Review
I use anthracite and have burnt through the metal baffle plate. The rear firebrick is just 3 inches high and the baffle plate sits on that. So if you try to have a larger fire the fuel is... [ read more ]

Stove expert replied: Anthracite is one of the hotter smokeless fuels on the market. There are many alternatives which may be considered for the future use of this stove. The internal parts, depending on how hard you are firing the stove and on how much fuel you are putting in the firebox, can be exposed to very high temperatures, so controlling the rate of burn and amount of fuel is critical.
Most Popular Review
After a lot of consideration we decided on this stove. We removed a cast iron Victorian fireplace and installed this in the cavity. It's a nice fit and we did not have to alter the existing... [ read more ]
More reviews for Franco Belge Belfort stove (page 1 of 2)
1