Franco Belge Belfort stove

based on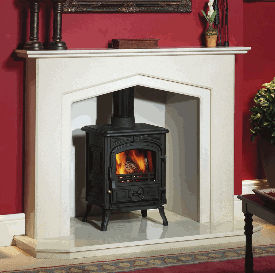 The Franco Belge Belfort stove is a compact model and will therefore be able to fit into smaller fire place settings.
It has a 5kw output & you do not need to put an air vent into the room as less than 5kw output.
You can get the Belfort stove in enamel finish as well.
There is 1 plain door with a glass panel on the stove and the flue pipe can come out of the top or back of the stove.
Technical Data
Height:

550mm

Width:

420mm

Depth:

340mm

Flue Diameter: 125mm
Fuel: Multi fuel
Nominal Heat Output: 4.5kW
Efficiency: 74.3%
Most Recent Review
The stove was already installed when we bought the house, about two years before we moved in. The stove is in the back snug and the room can get quite cold so we keep the stove going 24/7 for... [ read more ]

Stove expert replied: A liner is recommended for a property of this age. 316 grade liners come with a 10yr warranty and are best suited to woodburning stoves and the 904 grade liners has a 20 year warranty and is best suited for the multifuel burning stoves. I would go back to see what you had fitted as you may be able to claim under warranty depending on what was supplied.
Most Popular Review
After a lot of consideration we decided on this stove. We removed a cast iron Victorian fireplace and installed this in the cavity. It's a nice fit and we did not have to alter the existing... [ read more ]
More reviews for Franco Belge Belfort stove (page 1 of 2)
1