Franco belge Savoy Elegance - MKII

based on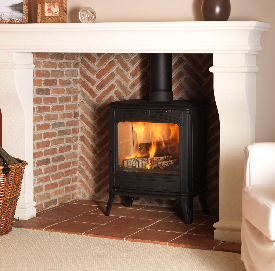 The Franco Belge Savoy Elegance has a bigger window than the Classic model.
This is a small cast iron stove with a relative big output
Technical Data
Height:

663mm

Width:

535mm

Depth:

407mm

Flue Diameter: 125mm
Fuel: Multifuel
Nominal Heat Output: 8kW
Efficiency: 80.6%
Most Recent Review
This is a lovely looking stove. The glass is kept clean by efficient airflow and the controls are sensitive.Of the eight stoves I have owned over forty years, this is the most efficient and... [ read more ]

Stove expert replied: 10 years service and now finding replacement parts too expensive is a shame, wear and tear does need to be factored in as spares are often disproportionally expensive compared to a new stove price! From what you have written it is a set of liners and 2 baffle plates which seems reasonable for 10years service unless there are other parts not accounted for in the review.
Most Popular Review
good stove for the money. looks very good lights well, burns well, wood and smokeless fuel and kicks out plenty of heatdownsideshandle does get very hotwhen door opens a small amount of ash... [ read more ]
More reviews for Franco belge Savoy Elegance - MKII (page 1 of 4)
1