Franco belge Savoy Elegance - MKII

based on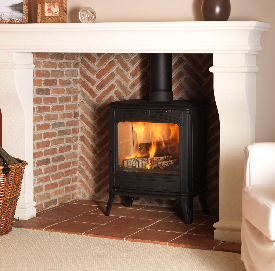 The Franco Belge Savoy Elegance has a bigger window than the Classic model.
This is a small cast iron stove with a relative big output
Technical Data
Height:

663mm

Width:

535mm

Depth:

407mm

Flue Diameter: 125mm
Fuel: Multifuel
Nominal Heat Output: 8kW
Efficiency: 80.6%
Most Recent Review
Unfortunately after 3 years there was evidence of rust internally and after a further year I had to replace the rear baffle due to rust at a cost of £400. Now a year later the flange holding... [ read more ]

Stove expert replied: Having a problem with rust internally may be down to water getting into the flue system and running down it, using wet fuel, not operating the stove at a high enough temperature or a combination of all three. Having said this, the top cracking normally implies that the stove has been over fired. Internal liners are consumable and will require replacing periodically and will be affected by moist conditions. No fuel with a moisture content in excess of 20% should be used on the stove a,d I recommend checking that the flue system is rain proof is made a priority due to the proximity of the installation. There are cowls available that reduce the amount of space that rain can enter which may be worth considering.
Most Popular Review
good stove for the money. looks very good lights well, burns well, wood and smokeless fuel and kicks out plenty of heatdownsideshandle does get very hotwhen door opens a small amount of ash... [ read more ]
More reviews for Franco belge Savoy Elegance - MKII (page 1 of 4)
1