Esse Ironheart cooking range

based on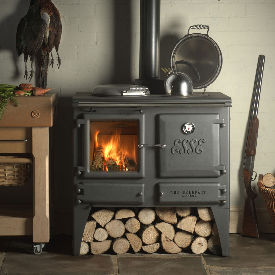 The Esse Ironheart cooking range is a cast iron and steel 8kw stove with oven, hot plate and possible back boiler for heating radiators and water. The Ironheart has a fire box with a glass door through which you can view the dance of the flames.
The tall legs have got a curve in them. The Ironheart is a multi fuel range capable of burning wood & coal.
Technical Data
Height:

900mm

Width:

900mm

Depth:

600mm

Flue Diameter: 150mm
Fuel: Multi fuel
Most Recent Review
2. Fire bricks several times. The original bricks were very soft and easily damaged especially if a piece of wood happens to hit them a little hard - due to the lack of support from the steel... [ read more ]

Stove expert replied: Any stove will require maintenance and the amount will vary on several factors:- how much it is used, quality of the product, how it is operated, quality of fuel etc. to name a few. Manufacturers may adapt products to give better life and value and it seems that during the time you have had this stove this has occurred. Loading of a stove should be undertaken with care as liners can become cracked due to impact and this stands for most products that have refractory liners. Great for cooking and provides a good source of heat though..
Most Popular Review
This is actually a sheet steel stove with a cast iron top surface, doors and hotplate.
More reviews for Esse Ironheart cooking range (page 1 of 3)
1