Esse 100 stove

based on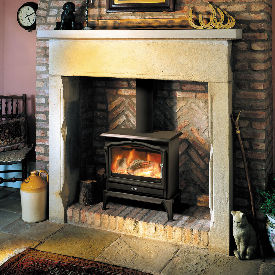 The Esse 100 is a 5 kilowatt multi fuel stove. It has 1 plain door with a big glass in it.
The Esse 100 is tall and wide but relatively narrow so you get a very large glass window with a relatively low heat ouput. The Esse 100 is therefore a good choice of stove where you want a big window but not too much heat or where there is a restricted depth of hearth.
The Esse 100 is made of steel and cast iron.
The Esse 100 SE version is approved for woodburning in smoke control areas.
Technical Data
Height:

630mm

Width:

610mm

Depth:

310mm

Flue Diameter: 125mm
Fuel: Multi fuel
Nominal Heat Output: 5kW
Efficiency: 82%
Most Recent Review
I have had this fire two and a half years it has never worked properly I could sit trying to light it for 40 minutes. Door glass cracked had to order a new one £58 told it was normal for this type of fire Would not recommend this fire waste of money.... [ read more ]

Stove expert replied: Faults with any stoves should be reported initially to the supplier which in turn would be fed back to the manufacturer which in this case is Esse, if the supplier is not able to rectify the problem. Esse would then send out their Gas Engineer so this review seems strange when you say it has not worked in the time you have had it! Have you reported the problem, was any action taken by the supplier etc? Glass in stoves can crack at any point, it is something that is not covered by the manufacturers warranty and is not specific to this stove.
Most Popular Review
The Esse 100 is great it works really well but can often be too warm so if youve got a small room the 100 is more than enough. Ours heats the whole cottage we often shut it down overnight an... [ read more ]
More reviews for Esse 100 stove (page 1 of 4)
1