Coalbrookdale Severn stove

based on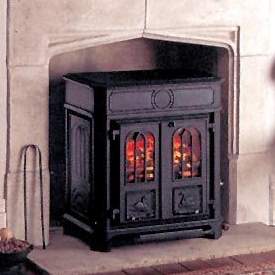 The Coalbrookdale Severn stove is a traditional stove.
Available in matt black finish it has a flat top and 2 doors.
The doors have decorative patterns and the stove is therefore easy to recognise.
Most Recent Review
I have moved into a property which has an existing coalbrookdale severn installed. It has been disconnected as a boiler, and is purely a fire. I understand that the fire is far too big for the... [ read more ]

Stove expert replied: Any boiler stove must not be used unless connected to the water system, they are not designed to use as a dry stove. If this is not going to be used to heat water / central heating it should be removed and a suitable model installed in its place. Is the chimney lined as it is recommended for modern efficient stoves in a property older than approx 50yrs, depending on chimney type and size. I recommend getting professional advice so that you can enjoy the warmth from a stove that suits your needs / requirements.
Most Popular Review
No longer made this'll be a one to score on Ebay. I swapped out a Stovax Regency (see my Stovax reveiw)for this boiler model. I have this running back to back with a Dowling Sumo 40Kw (see that... [ read more ]
More reviews for Coalbrookdale Severn stove (page 1 of 2)
1