Coalbrookdale Severn stove

based on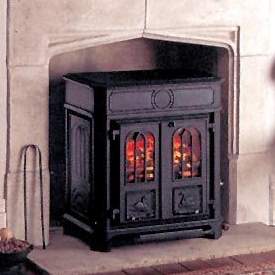 The Coalbrookdale Severn stove is a traditional stove.
Available in matt black finish it has a flat top and 2 doors.
The doors have decorative patterns and the stove is therefore easy to recognise.
Most Recent Review
We've recently moved and inherited a Severn wood burner. So far we are pleased with its efficiency however we'll get a better idea in Jan/Feb when it's been really cold. My problem is with the... [ read more ]

Stove expert replied: If the airwash is kept open and you are using seasoned wood with a moisture content of less than 20% the glass should remain clean, this is also providing there is enough free air in the room and there is a good flue draw. Do check out the flue draw and free air if the first two points are already being undertaken.
Most Popular Review
I use this stove as a wood stove. Having recently replaced the very worn gasket I find I cannot generate good hot heat any longer. I close the 2 vents at the bottom of the stove as always, and... [ read more ]

Stove expert replied: If the stove is working hard and not generating heat it may that the flue is over-drawing and sucking the heat out of the stove before it can circultae into the room. The gasket that ylou replaced was this from round the door or the glass? If the control on the stove doesn't alter when you operate the vents then you may want to look at adding a flue damper or stabilzer to the flue system. Seek expert advice.
More reviews for Coalbrookdale Severn stove (page 1 of 2)
1