Coalbrookdale Little Wenlock Mk3 stove

based on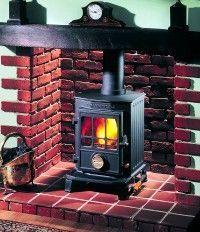 The Coalbrookdale Little Wenlock stove has a long history. There were the Mk1, Mk2, and Mk3 stoves which have now been superceeded by the current Little Wenlock model. Boiler models were also manufactured.
Most Recent Review
Installed in 1981 and at 34 years old, my Little Wenlock stove has sprung a leak from it's back boiler. Might have experienced a flood, if it had happened overnight but it is such a shame it... [ read more ]
Most Popular Review
Excellent stove which will burn any flammable solid material. I bought the original model 25 years ago and it is still going strong, minus its grate and firebricks, burning logs. I burned... [ read more ]

Stove expert replied: Coal is not a recommended fuel for most closed appliances, use smokeless fuels that are not petroleum based. Empty the ashpan regularly and do not let the ash build up in it. Be careful what you use on the outside of a stove as there may be a chemical reaction with the paint if a genuine product is not used.
More reviews for Coalbrookdale Little Wenlock Mk3 stove