Charnwood Island III stove

based on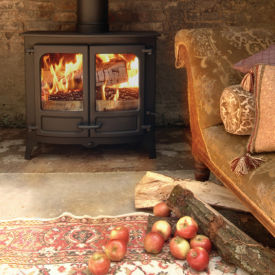 The Charnwood Island III is the largest in the Island range having an output of 12 kw. Logs of 550mm in length will fit through the doors. The grate converts for either wood or multifuel use.
Technical Data
Height:

713mm

Width:

732mm

Depth:

400mm

Flue Diameter: 175mm
Fuel: multifuel
Efficiency: 76.4%
Most Recent Review
I have bought this one year old wood burner from an online company second hand. It is excellent condition and perfect for what I want however it has a water jacket and I don't really have the... [ read more ]

Stove expert replied: A boiler stove must not be used as a dry stove and it is not recommended to be used in this way. There is potential for problems when it is not connected to a water system and should only be used when installed for the purpose that it was manufactured for..
Most Popular Review
I replaced an old (huge) Morso stove which was jolly good, but had solid doors and so spat burning embers on the living room floor. The Morso was in effect an open fire with no control, it took... [ read more ]
More reviews for Charnwood Island III stove