Charnwood C 5 stove

based on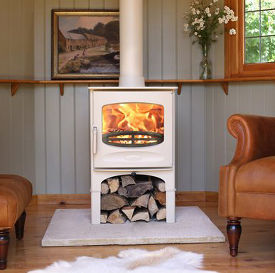 The Charnwood C series is a development of the Country range -
making for a more contemporary and simpler design.
You can have an optional store stand or rear flue adapter on this model.
Most Recent Review
The airways system only leaves a central triangle of clear glass by the morning. My wood is mature (2+year old ash and beech usually and I don't buy kiln dried wood because I have my own free... [ read more ]

Stove expert replied: You say that you are burning too much wood - by this do you mean that the stove is working hard, with vigorous flames continuously but not producing much heat? This seems opposite to the dirty glass that is being experienced, one indicative of an over drawing flue the other being lack of air for complete combustion and or wet fuel. Received from the manufacturer the following information: The reasons why the glass is blackening up can be various. - The C-Five is a DEFRA exempted appliance, therefore it is designed to not shut down fully. But as not everybody live in a smokeless zone, we gave the option to unscrew the stopping device so that the rod could close a bit more. But pushing the rod fully in will shut down all air vents, and as a result no air feed for the combustion, the stove "suffocates", creates creosote and suits up the appliance. - logs been slightly too damp still. An easy test would be to buy a bag of compressed log briquettes (less that 10% humidity), and make a test. - A lack of draught in the chimney/flue will slow down the oxygen feed to the fuel, resulting in it to not burn correctly. - A house that is too airtight will reduce the feeding of oxygen too. You can fit an external air kit that will take the air from the outside world. The heat output of the stove will be affected, of course, by the lack of combustion of the fuel.
Most Popular Review
Hi bought the Charwood c5 in november 2012.excellent little fire, heats the room fast. burns both wood and coal which is great.easy to operate. slightly smokey on the glass. only problem so... [ read more ]

Stove expert replied: The smokey appearance on the glass may indicate the fleu draw is excessive and could be why you are using so much fuel. Check the door seal is doing its job by shutting a piece of paper between the body of the stove and the door, if you can pull it out then the door needs adjusting. If this is not the cause I would get the installer back as you may need to add some control onto the flue system so that full conbtrol of the stove is resumed. This will allow the heat generated to radiate into the room rather than being sucked up the flue and you will use less fuel.
More reviews for Charnwood C 5 stove (page 1 of 3)
1