Charnwood C 5 stove

based on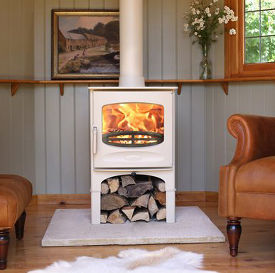 The Charnwood C series is a development of the Country range -
making for a more contemporary and simpler design.
You can have an optional store stand or rear flue adapter on this model.
Most Recent Review
We bought the almond coloured stove - mainly because of its appearance and colour. It is easy to use and burns well. The glass stays very clean and I think we have only cleaned it once in... [ read more ]

Stove expert replied: Modifying a stove should not be undertaken unless agreed with the manufacturer so leaving in the air control restriction is a wise move. Having two stoves in a property may mean that one flue has a better draw than the other and can affect how the stoves operate. This perhaps should be investigated further and you may find that the Charnwood's performance improves with further adjustments to the installation.
Most Popular Review
Hi bought the Charwood c5 in november 2012.excellent little fire, heats the room fast. burns both wood and coal which is great.easy to operate. slightly smokey on the glass. only problem so... [ read more ]

Stove expert replied: The smokey appearance on the glass may indicate the fleu draw is excessive and could be why you are using so much fuel. Check the door seal is doing its job by shutting a piece of paper between the body of the stove and the door, if you can pull it out then the door needs adjusting. If this is not the cause I would get the installer back as you may need to add some control onto the flue system so that full conbtrol of the stove is resumed. This will allow the heat generated to radiate into the room rather than being sucked up the flue and you will use less fuel.
More reviews for Charnwood C 5 stove (page 1 of 3)
1