Charnwood Island I stove

based on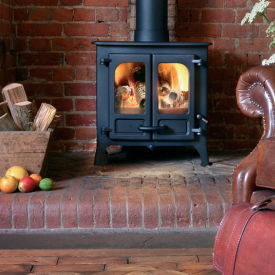 The Charnwood Island I is a small 2-6kw stove, it has two doors and sits on 4 legs. The grate can be converted for multifuel use using the lever on the side of the stove. The stove has an air control button on the front of the stove under the doors which controls the fire.
Technical Data
Height:

578mm

Width:

535mm

Depth:

312mm

Flue Diameter: 150mm
Fuel: multifuel
Efficiency: 77.9%
Most Recent Review
I had this stove installed 1 week ago. Despite following the instructions on lighting and running the fire the room just does not get warm at all. I am using kiln dried wood and lots of if but... [ read more ]

Stove expert replied: This model should be producing and average of 5kW and depending on the room size should make a noticeable difference. I would discuss this with the supplier but it is unclear who suggested this stove - supplier or installer. Was the chimney lined? How much space have you round the stove? Is the stove working hard and not producing heat or is it sluggish? Your installer should be able to do a flue test to check that it matches the requirements suggested by the manufacturer. Check the manual to ensure that you are operating the controls as suggested and perhaps get a stove thermometer. Persevere as I am sure there will be something that can be done to improve the performance.
Most Popular Review
Very easy to light, easy to use with minimal fuss. No gadgets and gizmos just simple controls, pull out/push in for air control and side to side for riddling and multi fuel burning.Have only... [ read more ]

Stove expert replied: Value for money all in all. Great feedback. Comments on fuel very interesting.
More reviews for Charnwood Island I stove (page 1 of 2)
1