Charnwood Island I stove

based on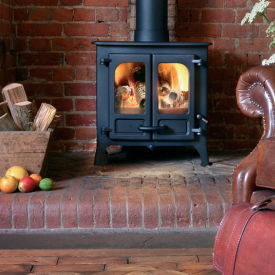 The Charnwood Island I is a small 2-6kw stove, it has two doors and sits on 4 legs. The grate can be converted for multifuel use using the lever on the side of the stove. The stove has an air control button on the front of the stove under the doors which controls the fire.
Technical Data
Height:

578mm

Width:

535mm

Depth:

312mm

Flue Diameter: 150mm
Fuel: multifuel
Efficiency: 77.9%
Most Recent Review
Had this brilliant multifuel stove installed 3 years ago. It took me 4 weeks reviewing/ ringing round for advice. I also rang yourself and must say that this is the best site so far for help... [ read more ]
Most Popular Review
Very easy to light, easy to use with minimal fuss. No gadgets and gizmos just simple controls, pull out/push in for air control and side to side for riddling and multi fuel burning.Have only... [ read more ]

Stove expert replied: Value for money all in all. Great feedback. Comments on fuel very interesting.
More reviews for Charnwood Island I stove (page 1 of 2)
1