Yeoman Exe stove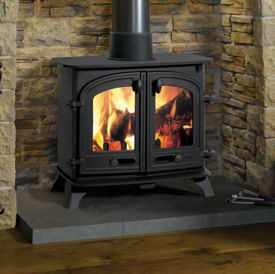 The Yoeman Exe stove is available with a small boiler suitable to heat domestic hot water -
the tapping points are on the back of the stove.
This Yeoman stove has 2 doors with glass panels in the doors -
You can get a mulkti fuel kit for this Yeoman model or have a wood burning model -
there is a choice of flat top or canopy
&
1 or 2 doors on the stove.
The decoration on the stove door might have optional Tudor Rose crosses.
Most Recent Review
After having looked around considerably for a big size stove for our fireplace opening and room size but without having to have a vent the Yeoman Exe was the best I could find. Cant believe... [read more]

Stove expert replied: Good review, stove producing good output. Lead times vary and can cause problems if a tight timescale is wanted!
Most Popular Review
Great stove, large firebox, big window. Only used as a woodburner, dont burn overnight but sometimes find enough glowing embers to re-start the fire in the morning. I find ash only needs emptying once a week and leave about an inch of ash in the bottom as the wood burns best on ash bed. Controls very simple to use and very sturdy. My stove installer has one of these so thought they must be good. If looking for a 5kw stove with a big firebox, look no further. ... [read more]

Stove expert replied: A great review. Thanks
More reviews for Yeoman Exe stove