Yeoman Devon stove

based on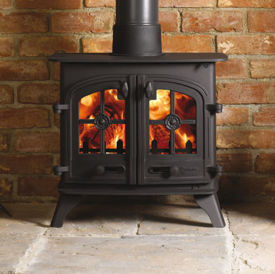 The Yeoman Devon stove is a traditional wood or multi fuel stove available with a flat top, low canopy or high canopy.
The Yeoman Devon stove has a 1 or 2 door option & you can have crosses on the glas of the 2 door model.
The Yeoman stoves have air wash & clean burn
&
you can get a flue damper for the Yeoman stoves.
Most Recent Review
We love the look of our fire but are having awful trouble with the draw of it even with vents at the front and one underneath. The fire just smoulders and then burns out, we can only get some... [ read more ]

Stove expert replied: Things to check, is there enough free air in the room to allow for combustion, if a well insulated property an air brick is likely to be required? Is the chimney lined? Have you another flue in the property that may have a stronger flue draw than the one this stove is installed in? What height is the flue? Being that the stove seems to work when the doors are open would seem to indicate that not enough air is getting into the stove when they are closed so check8ing the above is important. Also is it a Devon or Exe model as they are different. Do also check that the air controls are able to open when operated as I have known the internal parts being put on incorrectly so closed was intact open and vice versa.
Most Popular Review
I would recommend this with no hesitation whatsoever. Easy to light, emits a huge amount of heat and a bonus that it looks fabulous too. Will keep in overnight with coal and wood, although... [ read more ]
More reviews for Yeoman Devon stove