Yeoman Country stove

based on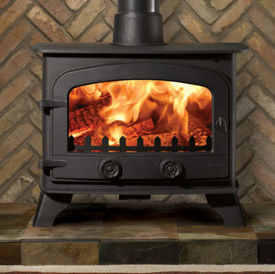 The Yeoman Country stove is the biggest of the Yoeman traditional stoves.
This stove is available as a wood or multi fuel model -
there is an optional clip in or bulit in builer available.
You can have a low or high canopy & 1 or 2 doors on this model.
The measurememnts given are for the flat top model -
dimensions will be different for the canopy models.
Most Recent Review
Our Yeoman County heats a 4 bed house / rads / DH Water. Looks well and has quite a good heat output. It was supplied with a "thermostat kit". This was accompanied with a supplementary installation... [ read more ]
Most Popular Review
This is my 3rd winter using the Yeoman county 40.000btuintegral boiler stove.Having just had our worst / coldest winter for 18 years this has proved to be one of my best investments.As i am... [ read more ]
More reviews for Yeoman Country stove
I live in an old farm house built in the early seventeen hundreds and as you can imagine trying to keep the place warm with so many draughts is quite a challenge. I had an open fire in the main... [ read more ]

We live in a C17 hundred 3 bed detatched cottage, anyone who has spent time in an old house will tell you they generally leak heat through single glazing and have draughts everywhere- ours is... [ read more ]

Stove expert replied: How to transform a house to a home!!

We bought a Yeoman County 6hb, as we were pleased with previous Yeoman stove, the quality is not the same though. We had to have different baffles fitted to try to overcome smoke billowing out... [ read more ]