Woodwarm Pheonix FireGem 5kw

based on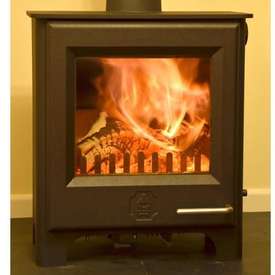 The Woodwarm Pheonix FireGem 5kw provides a slim version of the FireBlaze to fit into those smaller spaces.
Can be fitted with direct air if needed.
Technical Data
Height:

635mm

Width:

552mm

Depth:

302mm

Flue Diameter: 125mm
Fuel: Wood
Nominal Heat Output: 5kW
Efficiency: 84.3%
Most Recent Review
Bought this and had it fitted 18 months ago. Prior to this stove we had a Stovax Stockton 5 and I can say without hesitation that the Woodwarm is like a Bentley whereas the Stovax is like a... [ read more ]

Stove expert replied: Great feedback for the Woodwarm stove
Most Popular Review
It took me a long time to decide which stove was the right one for me and to be honest I didn't even consider a Woodwarm, I was looking at a few other manufacturers and visited a showroom to... [ read more ]

Stove expert replied: Great review.
More reviews for Woodwarm Pheonix FireGem 5kw
For burning coal just open the bottom grill/riddle to let in air from the bottom, and retain the two internal plates at each side, these help keep the coals in place. If burning logs remove... [ read more ]