Westfire 16 stove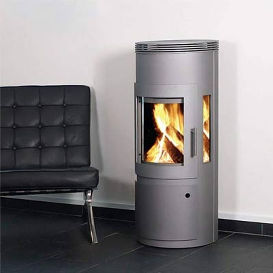 The Westfire 16 is a circular contemporary stove available in black or grey.
It is flat on the back of the stove.
The Westfire 16 has 1 door with curved glass & 2 smaller glass side panels.
There is air wash on all doors.
The Westfire 16 is a wood burner with an ash pan and grate
&
you can mix in 20% smokeless fuel when wood burning.
The hearth can be 12mm thick.
Technical Data
Height: 1120mm
Width: 440mm
Depth: 440mm
Flue Diameter: 150mm
Fuel: Woodburner
Nominal Heat Output: 5kW
Efficiency: 82%
Most Recent Review
Most Popular Review
Gives out a lot of heat for a pure wood burner. The only problem is the airwash which in our experience is poor.

Stove expert replied: A trick with the Westfire 16 stove is to crack the door open a tad when lighting it. Wait till it is nice and hot and going well before closing the door and then make sure that you close the ash pan and primary air slider. This should help keep the window clearer.
More reviews for Westfire 16 stove
Nice looking stove. Beautiful flame when running well. Air wash not great- needs bone dry wood. But easy to light and gives off a very good heat. Firebox adequate.

Stove expert replied: I have used this stove myself and if any deposits do build up on the window then you can just burn it hard and fast for a while to burn them off.

With oil prices increasing at an alarming rate last winter, we fitted the Westfire to help reduce our oil consumption. Fitting the stove to a kitchen of around 100 cubic metres, reduced oil... [read more]

This stove is really easy to use, looks great as a stand-alone stove in a corner.The window size is large and the Firebox is more than fine for secondary heating of smaller rooms. The only element... [read more]

A good stove which looks great and allows us to burn wood in a smoke free area. When it gets going it burns really hot and the airwash system does work. The controllability is not as good as... [read more]

Stove expert replied: This top bar is used in the factory to move the stoves around. When ordering specify that you want the top bar cut out - this involves 2 cuts either side of the bar, you need to leave the ends of the bar in place. Otherwise it is a very quick job when the stove arrives.

Form before function but It looks great - the glass stays clean if you stick to dry wood. I have the fresh air kit so I really only have control over the secondary air. That said it does light... [read more]