Villager Chelsea Solo

based on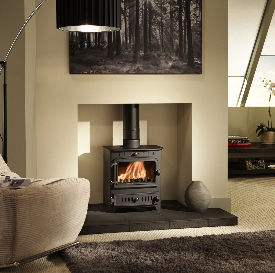 The Villager Solo stove is a 5kw output multi fuel Villager model.
The Solo model has 1 plain door.
The Villager Solo is a plain flat top stove suitable for a small setting - there is an optional low or high canopy model available too.
Technical Data
Height:

495mm

Width:

457mm

Depth:

334mm

Flue Diameter: 125mm
Fuel: Multi fuel
Most Recent Review
Whilst it's been a good fire - we quickly found that the baffle plate bent after two or years, the fire-bricks have been replaced and have recently just cracked again, and the glass system is... [ read more ]

Stove expert replied: For internal parts to fail quickly is an implication that the flue draw may be too high for this stove (see the manual for the manufacturers guidelines). Cracked fire-bricks can still be used providing they are staying in place to protect the metal of the stove. The stud may be able to be drilled out to enable the glass re-fitting if you can find a local engineer to undertake the work.
Most Popular Review
this is a fab wee stove and we are totally roasting!! Keeps its heat in all night so cosy in the morning if room doors shut. Would highly recommend
More reviews for Villager Chelsea Solo (page 1 of 3)
1