Vermont Castings Intrepid 2 Multi fuel stove

based on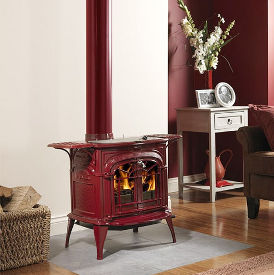 The Vermont Intrepid 2 multifuel stove is an enamelled cast iron stove with a 7kw output. It has a top loading door and airwash.
Most Recent Review
The stove was present when I moved into the house in 2008, I think it was newly installed. It has not had too much use, I would reckon at the maximum 20 times per year if that. I note today... [ read more ]

Stove expert replied: Enamel is normally a robust finish so for it to be coming off seems rather strange but the stove is now at least 8years old. Have you had any building work in the property (rendering / plastering) both of these have high water content which could affect a stove and its condition. There will be touch up paint that can be purchased to cover the places that are affected.
Most Popular Review
Have been using multifuel stoves for over 30 years in our non centrally heated farmhouse. Our Intrepid has now finished it's 3rd winter. Love it. Very economical with fuel compared to our other... [ read more ]
More reviews for Vermont Castings Intrepid 2 Multi fuel stove (page 1 of 2)
1