Vermont Castings Intrepid 2 Multi fuel stove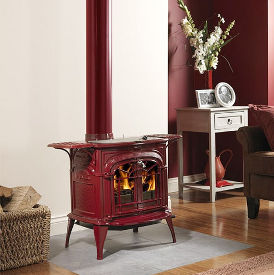 The Vermont Intrepid 2 multifuel stove is an enamelled cast iron stove with a 7kw output. It has a top loading door and airwash.
Most Recent Review
Living in Perthshire with oil-fired CH (ouch!) we decided to get one of these in the central living room and Little Wenlock Classic in the snug. We already had a small Morso in the kitchen.... [read more]

Stove expert replied: Great review and economic heat being generated by this stove.
Most Popular Review
Have been using multifuel stoves for over 30 years in our non centrally heated farmhouse. Our Intrepid has now finished it's 3rd winter. Love it. Very economical with fuel compared to our other... [read more]
More reviews for Vermont Castings Intrepid 2 Multi fuel stove
Old installation that my sweep says needs a flue access hatch to allow him to sweep it out. Dont know how to go about this

Stove expert replied: Get an installer in to disconnect stove and add a flue with access point in it. The sweep may know of someone who should be Hetas Approved.

Stove came with the house, is non-enamelled. The thermostat was broken at the back when we inherited it, the screw has snapped off in the cast iron so difficult to replace. Air flap operates... [read more]

Stove expert replied: A geriatric stove with plenty of life left in it, fantastic review!

Our stove needs spare parts/service/repair to damper and air inlet and we can find no engineers in Notts/Derbys/Leics that are able to do this. Several retailers sell Vermont but it appears... [read more]

Stove expert replied: Contact Hetas as they have a list of Engineers who will undertake maintenance.

We installed an Intrepid II in December 2006 and going by all the reviews we had read expected to have a good number of years trouble free. However, we have had to replace several throat plates... [read more]

Stove expert replied: It may not be all to do with the stove, could your flue draw be excessive causing premature failure of these components?

This is our 1st stove and this little beast throws out ample heat. If you mix coal and logs then it burns overnight and the room is lovely and warm in the morning. This now heats 3 large rooms... [read more]

Stove expert replied: Amazing review as this seems to be heating the whole house!!

Just taken delivery of an intrepid 2 multifuel stove in matt black, this is to replace our original which we have had and used almost daily for the last 25 years (no central heating here) Fantastic... [read more]

Stove expert replied: Good feedback for new stove compared to old tried and tested model.

We have four of these woodburning stoves in different properties. They last for years; our oldest is 24years old and still going strong. Both basic cast iron and enamelled finish are easy to... [read more]

Stove expert replied: Can't be bad providing adequate heat during such a cold winter with no central heating.