Varde Ovne Aura 1 stove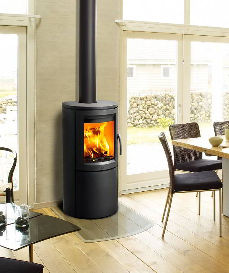 This contemporary stove is made in Denmark.
Due to a cast iron top and door it is a very well built stove.
The air wash keeps the glass clean and a tempered handle means cool to touch when feeding the fire.
Direct air supply can be added using a kit.
Technical Data
Height:

1000mm

Width:

500mm

Depth:

420mm

Flue Diameter: 150mm
Fuel: Wood
Nominal Heat Output: 5kW
Efficiency: 78%
Reviews for Varde Ovne Aura 1 stove
There are currently no reviews for this stove. Be the first to write a review for the Varde Ovne Aura 1 stove.